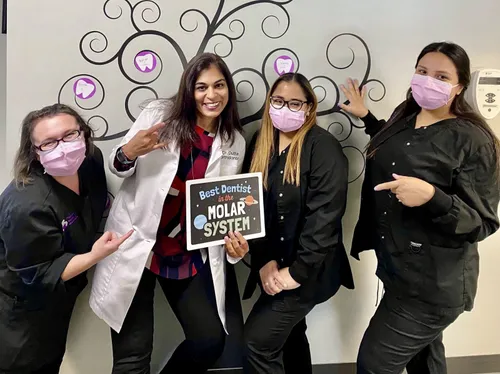 Doctors
All our professionals at Padonia Dental Associates maintain the highest levels of accreditation and pursue ongoing education to stay abreast of the latest trends in dentistry.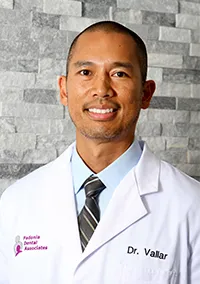 Dr. Rodrigo Vallar
Dentist in Cockeysville, MD
Padonia Dental Associates
Dr. Rodrigo Vallar is a graduate from the University of Maryland, School of Dentistry . While attending Dental School, he was an honorary member of the Gamma Pi Delta Prosthodontic Honor Society. Utilizing a comprehensive approach, Dr. Vallar performs a wide array of modern dental services. With his compassionate and approachable demeanor, he excels at placing his patients at ease. Dr. Vallar has been with Padonia Dental Associates for fifteen years. He finds improving his patients' self-esteem through cosmetic dentistry most rewarding. Dr. Vallar enjoys spending time with his wife and three children. When he is not supporting local sports teams, he is coaching and cheering on his daughters. He appreciates vacationing, mountain biking, snowboarding and relaxing with a movie in his spare time.
---
Dr. Cody Wisnom
Dentist in Cockeysville, MD
Padonia Dental Associates
Dr. Cody Wisnom was born in Towson and grew up in Jarrettsville, MD. He completed his B.A. degree in Biological Sciences at the University of Maryland Baltimore County and his D.D.S. degree with an Oral Surgery clerkship at the University of Maryland School of Dentistry. After graduation, Dr. Wisnom completed the Advanced Education in General Dentistry residency program at the University of Maryland School of Dentistry performing Endodontics, complex surgical procedures and earning advanced proficiency in cosmetic and general dentistry. Dr. Wisnom's hobbies include enjoying nature and the outdoors as well as time with his parents and their two Doberman, the NFL and fantasy football.
---
Dr. Richa Dutta
Orthodontist in Cockeysville, MD
Padonia Dental Associates
Dr Dutta obtained her dental degree in India before attending the University of Southern California 's Advanced Program for International Dentists to earn her DDS. She then went on to pursue her true love of orthodontics at Boston University's Henry Goldman School of Dentistry where she earned her Masters of Science degree and a specialty degree in Orthodontics.
Dr. Dutta is a dedicated Orthodontist who is an active member of the American Academy of Orthodontists , Mid Atlantic Society of Orthodontists (MASO) and Maryland State Society of Orthodontists (MSSO). Her kind disposition and friendly smile make both adult and child patients feel at ease during their appointments. Her warm personality and chairside manner give patients comfort when asking questions. She also always takes the time to ensure that each patient understands all his or her treatment options.
She has been the Chair of the Government Affairs Committee under MASO, is a delegate to the AAO, and in her spare time, she enjoys swimming, reading, cooking and running behind her 4 year old twins.
---

Jacyln Kim, RDH
Padonia Dental Associates
Jaclyn, a native of South Korea, grew up in Baltimore after moving with her family to the U.S. at the age of seven. She attended the University of Maryland Baltimore County where she earned her Bachelor of Arts in Psychology and minor in Sociology. She then continued her education at the University of Maryland Dental School where she graduated with a Bachelor of Science in Dental Hygiene. Jaclyn has been with Padonia Dental for 20 years. Her compassionate and friendly demeanor has put hundreds of patients at ease over the years. She is also committed to keeping her clinical skills and knowledge up to date with ongoing continue education. Jaclyn is fluent in English and Korean. Outside of work, she enjoys traveling, art, music, cooking, gardening and photography.
---

Nikki Ziegel, RDH
Padonia Dental Associates
Nikki was born and raised in Phoenix Maryland. Nikki earned an Associates of Applied Science Degree in Dental Hygiene from The Community College of Baltimore County. Nikki and her family have been long time patients of Padonia Dental Associates. Nikki's friendly, outgoing and upbeat personality makes for an enjoyable dental experience for her patients. Her goal is to provide patients with the most up to date patient education to aid in maintaining healthy oral hygiene. In her free time, Nikki spends quality time with her family, friends and her four dogs. She frequently enjoys a relaxing weekend in Fenwick Island, DE.
---

Gina DeLuzio, RDH
Padonia Dental Associates
Gina was born and raised in New York. She studied at Plaza College In Queens where she received her Associate of Applied Science. She then moved to Maryland to be closer to her boyfriend and start her dental hygiene career. She is extremely passionate and dedicated to fulfilling her patients' dental needs and providing them with the best experience. In her free time, Gina is always working on her fitness goals, reading a book, or doing a little online shopping. She's super excited to be a part of our team and can't wait to see what the future brings!
---

Michelle Miller, Office Manager
Padonia Dental Associates
Michelle has been serving the dental community for 25 years. She began her career with a pediatric office in 1994 and developed a love for the dental field. Michelle joined Padonia Dental Associates in August of 1999 as our office manager. She is a member of the AADOM and takes advantage of continuing education courses to stay on top of the latest information available for her team. Michelle enjoys helping patients and her dental team to have the best experience possible!

In her free time, Michelle enjoys spending time with her husband, Tim, and children, Brennen and Kaylin. She also loves animals and has three fun loving dogs and an energetic chinchilla that keep her very busy, too!